We are one of the leading Anchor bolts suppliers in UAE. ANCHOR BOLTS are used primarily in the construction of Masonry. Bolts are inserted into columns and walls to hold boards, frames, and ledgers. This Bolts can be used for bearing walls and columns, both for load and non-load.
SPECIALS MADE TO ORDER PIPE SUPPORT:
Square U-Bolts, Round U-Bolts, All Thread Stud, Double-End Stud & Single-End Studs, Eye- Bolts, J-Bolts are made with short lead times.
Hi-Tech Technology manufactures custom J-Bolts to almost every ASTM specification. J- Bolts are provided per your specifications from stainless steel to a wide range of materials.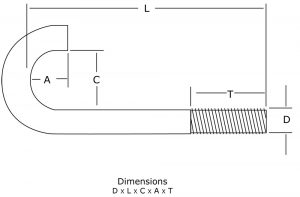 Eye bolts (eyebolts) are threaded bolts at one end, with a loop or eye. Used to anchor a cable, rope or chain and used with tie-downs and guiding wires, the eye is not suitable for lifting applications, though.